The entire Staff at Arrow Valve would like to welcome you to our home on the World Wide Web! We greatly appreciate that you have taken the time to visit us and we hope you will learn more about our company, products and how we can serve your needs. If you have any questions or comments or would like to speak with one of our sales consultants, you will find the contact information below handy. We sincerely hope to have the privilege of serving all your valve needs in the near future!
---
Arrow Valve Profile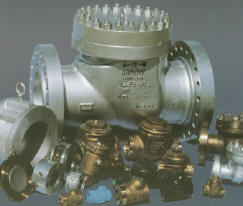 Back in 1969 Mr. Kendall Robertson the president of Arrow Valve, had the vision to produce a line of high quality check valves and related assembles to serve the gas, oil and water industry.

The corporate offices and manufacturing facilities are located in Caney Kansas where they remain to this day. Arrow Valve fully incorporated in 1981 and is proud to be a family owned and operated company producing products made in America, by American hands. Arrow's wide variety of check valve products such as swing checks, wafer checks (long and short pattern), and ball check's are not only found in American industry, but on a world-wide basis. Arrow Valves are well known for quality, durability and longevity while maintaining strict industry tolerances.

In October 2014 Arrow Valve was purchased by Mr. Robertson's daughter Cathey (Robertson) Alani and her husband Art Alani. Cathey has been running the office for the past 14 years. Art works as an Aviation mechanic/supervisor and has been around manufacturing, machine shops, and repair shops for most of his 28 years in his aviation career.

Cathey and Art are both committed in keeping Arrow Valve's commitment to American made Quality, Durability, Longevity, Customer Satisfaction, and Safety while maintaining strict industry tolerances.
Arrow wants to be your supplier of choice, so why not contact us today to learn how we can serve your needs!
Any Complaints or Disputes contact: Arthur at (620) 515-4956